ISO Certified Lead Wire Assemblies & Wire Harnesses
US Cotronics specializes in producing custom lead wire assemblies, wire harnesses and other precision electronic components manufactured with industry-leading turnaround times and ISO certified quality.
ISO Quality Is Wound Into Every Custom Lead Assembly & Wire Harness We Manufacture
All of our lead wire assemblies, wire harnesses and other quality electronic components are manufactured in accordance with ISO 9001:2015 standards. Our certified production team is meticulously involved with the entire manufacturing process to ensure our industry-leading quality standards are exceeded with every lead assembly we produce.
Our expert quality assurance team utilizes APQP methodology to ensure consistency and efficiency throughout the streamlined production process we employ. This enables US Cotronics to produce the finest lead wire assembly solutions on the market while consistently meeting or exceeding the quickest turnaround times that the custom electronics industry has to offer.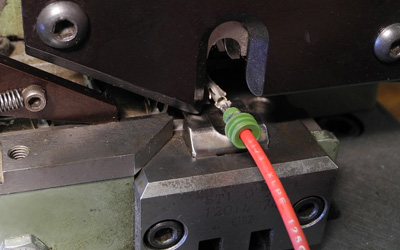 We offer the following products and services to satisfy all your business' requirements for custom wire harnesses and lead wire assemblies:
Complete wire harnesses
Complete lead assemblies
Wound coils with lead assemblies
Wire cutting
Wire stripping
Application of individual components including: terminals, seals, connectors, backshells, heat shrink, ties and more.
Product Gallery
Take a look at some of the ISO certified wire harnesses and lead assemblies manufactured by US Cotronics in our product image gallery below.