Precision Terminal Application for Custom Coils & Windings
Custom coils, windings, and wiring assemblies are only as good as the quality of the terminal connections built into them. At US Cotronics, we manufacture our premium electronics solutions with precision terminal applicators to yield consistent, reliable terminal connections built into every one of our custom wire assemblies.
Terminal Applications Backed by ISO Certified Quality
Like all of our custom electronics manufacturing services, we produce terminal applications with superior consistency in adherence to the latest ISO 9001:2015 certification standards.
Our streamlined electronics production shop delivers complete wiring solutions with terminal applications backed by industry-leading efficiency and turnaround times. Our expert manufacturing team is hands-on throughout the entire process, applying APQP methodology to ensure uncompromised quality.
Some of the advanced product testing and quality control equipment we utilize at US Cotronics includes:
Multimeters
Pull Testers
Micrometers
Calipers
Digital Scales
Hipot Testers
Connector Test Stands
Turns Analyzer
Tension Meters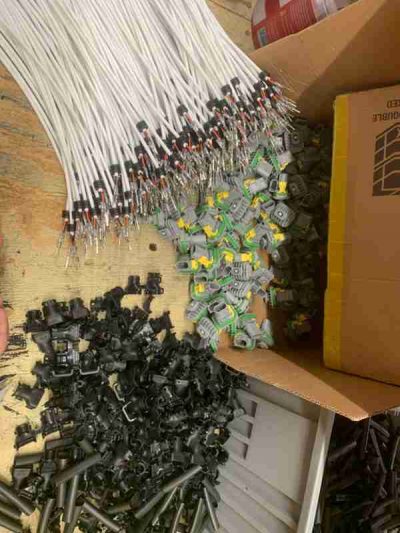 Streamlined Wire Assembly Production with Custom Terminal Applications
US Cotronics is outfitted with a complete range of advanced electronics manufacturing technology, including numerous terminal applicators.
Molex Terminal Presses
AMP Terminal Presses
Check out our Equipment List for an overview of all the production tools that we use to manufacture your custom wiring solutions and other electronic components.
---
Browse our product gallery for a look at some of our ISO certified terminal application products.